Bethlehem University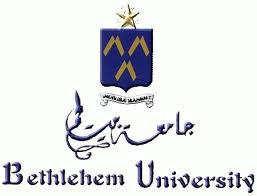 Bethlehem University (BU) is a Catholic co-educational university founded in 1973 by the Vatican and the De La Salle Christian Brothers. BU, the first university in Palestine, was established to offer higher education to meet the educational needs of the Palestinian society.
It is a member of the Palestinian Council of Higher Education and is fully accredited in Palestine.  The academic programs of BU are offered through five faculties and an Institute of Hotel Management and Tourism.
Undergraduate Programs
Faculty of Arts
Department of Arabic
Major: Arabic Language and Literature
Minors: Arabic, Translation, Journalism
Department of English
Major: English Language and Literature
Minor: French
Department of Religious Studies
Major: Religious Studies
Minor: Catechetic
Diploma: Religious Education
Department of Social Sciences
Majors: Sociology, Social Work
Minors: Sociology, Psychology
Faculty of Business Administration
Department of Business Administration
Major: Business Administration
Minors: Business Administration, Marketing
Department of Accounting
Major: Accounting
Minor: Accounting, Finance
Faculty of Education
Majors: Kindergarten, Primary Level, Teaching Arabic, Teaching English, Teaching History/Geography, Teaching Mathematics
Higher Education Diplomas in Methods of Teaching: Arabic for Secondary Level, English for Secondary Level, Civics for Primary Level, Mathematics, Science for Primary Level, Christian Religion
Faculty of Nursing and Health Sciences
Majors: Midwifery, Nursing, Physiotherapy, Occupational Therapy
Higher Diplomas: Midwifery, Neonatal Nursing, Emergency Nursing
Faculty of Science
Department of Biology
Major: Biology
Minors: Biology, Medical Laboratory Science
Department of Chemistry
Major: Chemistry
Minors: Chemistry, Industrial Chemistry
Department of Mathematics
Major: Mathematics
Minor: Mathematics
Department of Computer Information Systems
Major: Computer Information Systems
Minor: Computer Information Systems
Department of Physics
Minor: Physics
Institute of Hotel Management
Major: Hotel Management
Diplomas: Hotel Management, Travel Agency Management, Tour Guiding
Graduate Programs
Masters in Cooperation and International Development (MICAD)
Masters in Biotechnology
Masters in Tourism Studies
Beginning with 112 students during its first year in 1973,  the enrollment of the University increased steadily reaching 1,000 in the Fall of 1981, over 2,200 by Fall 2000, and in the Fall 2012 semester enrolling more than 3,000 students.
The University is located on the highest hill in Bethlehem, eight kilometers south of Jerusalem. It is easily accessible by car or bus.
OUTREACH PROGRAMS
To carry out its mission in promoting research and serving the wider community, Bethlehem University has established several outreach programs:
Center for Advanced Studies and Research in the field of International Cooperation and Development
Hereditary Research Laboratory
Institute for Community Partnership
UNESCO Biotechnology Center
Water and Soil Environmental Research Unit
Cardinal Martini Leadership Institute
Center for Excellence in Teaching and Learning
Abdel Rahman Zuroub Teachers' Resource Center
More information for Erasmus Mundus Applicants: www.bethlehem.edu