Uppsala universitet

Uppsala University is the oldest university in the Nordic countries, with a living cultural environment and fantastic student life. There are 40,000 students here, and they are seen, heard, and noticed everywhere. World-class research and high quality education pursued here benefit society and business on a global level. The University is characterized by diversity and breadth, with international frontline research at nine faculties and limitless educational offerings at undergraduate and master levels. Uppsala University is consistently ranked as one of the top 100 universities in the world.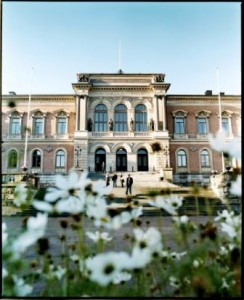 We offer more than 800 different courses taught in english for our exchange students, at both undergraduate and master level, within nine different faculties (Pharmacy, Arts, Law, Medicine, Science and Technology, Social Sciences, Languages, Theology and Educational Sciences).
Through Dunia Beam Uppsala University will along with scholarships for doctorate studies, Post-doctorates and staff also offer exchange opportunities for students at bachelor and master level. To find out exactly what courses are available please have a look at the following page: www.uu.se/mundus/application.
If you are interested in applying to Uppsala University through Erasmus Mundus please first go to www.uu.se/mundus/application and go through the step-by-step guide there.
Within the Erasmus Mundus programme Uppsala University is currently a partner in 15 projects targeting the regions Asia, Latin America, South Africa, North Africa and the Middle East. We are also coordinating one project called PEACE, which focuses on Latin America.
The staff at Uppsala University is possible to reach in the following ways:
 Email: erasmusmundus@uadm.uu.se
Skype: [jonathan_iro_uu]
 Facebook www.facebook.com/uppsalauniversity
 Web: www.uu.se/mundus