Freie Universität Berlin

Freie Universität Berlin is a young, dynamic university located in one of the most exciting cities in the world. It is a place of learning and research that has enjoyed international renown and strong connections around the globe from its very beginning. It offers an outstanding environment for study and research on a wide spectrum of subjects and is considered one of Germany's best universities. While attending the university, students and young scholars have the unique opportunity of tapping the resources of the many nearby research institutions to pursue innovative research while also enjoying the social and cultural life of Germany's vibrant capital.
Interdisciplinary by nature, the primary areas of research at Freie Universität Berlin are supported by the university's connections to a wide range of academic networks. Freie Universität Berlin offers the broadest spectrum of research opportunities in the humanities in Germany. The Dahlem Humanities Center features a large number of specialized subjects, ranging from various language programs to Religious Studies and Archaeology to Film Studies. The Center for Area Studies clusters regional studies research on North and Latin America, Eastern Europe, East Asia, the Middle East, and individual European countries. Governance is a specialization of the Otto Suhr Institute, one of the most renowned political-science institutes in Europe. The natural sciences are a major focus at the university, particularly in the areas of the life sciences, earth sciences, physics, mathematics, and computer science. Furthermore Freie Universität Berlin is home to one of the five veterinary schools in Germany as well as the country's largest pharmacy institutes. Also in the field of healthcare and medicine, Charité – Universitätsmedizin Berlin is the combined medical school of Freie Universität Berlin and Humboldt Universität, an institution steeped in tradition. It boasts the largest medical faculty in Europe and is one of the oldest health facilities in Germany.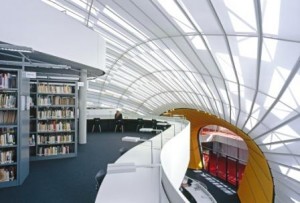 Freie Universität is a full-spectrum university, comprising twelve departments and three central institutes that together offer more than 150 different academic programs in a broad range of disciplines in the humanities, social sciences, and natural sciences. The university offers programs toward any academic degree, from bachelor's and master's degrees to state exams, doctorates, and Habilitation. With 28,500 undergraduate and graduate students and 4,300 doctoral candidates, Freie Universität is the largest university in Berlin.
Freie Universität Berlin has numerous libraries available to students. The main library which has 2 million books and journals, numerous databases, e-books, and other electronic resources is the university's most comprehensive library. Other books and resources may be acquired as needed, including all doctoral dissertations written at the university, which are on deposit at the library and available upon request. Highly specialized collections on various subjects are primarily found in departmental libraries. The well-developed campus IT system is one of the best among German universities.
Specific information for Erasmus Mundus applicants: http://www.international.fu-berlin.de/