Acronym and Logo
D

evelop a

U

niversity

N

etwork

I

mproving the move-

A

bility

B

etween

E

urope

A

nd

M

iddle-East – DUNIA BEAM
The choice of two words, one Arab (DUNIA means "World") and one in a European language (BEAM) intends to emphasize the presence of academic alliance between Europe and the Middle East, in respect of socio-cultural traditions of each, but as equals.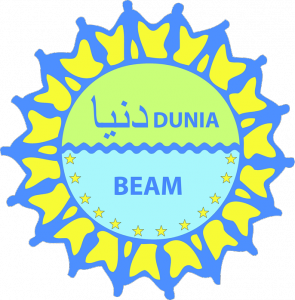 In the centre, the world (DUNIA written in Arabic language too). In the high half of the background the green colour represents the planet and the green is the Islam colour too.
In the low half of the background the blue colour represents the Mediterranean sea but the European Union too with the 12 standard stars.
The circle of people represents the Mobility and the yellow colour around the people, the beam.